| Product | Member Rate | Non Member Rate |
| --- | --- | --- |
| Newsletter Ad | $80 | $120 |
| Dedicated Newsletter | $160 | $200 |
| Website Ad Front Page | $200 | $300 |
| Member Forum Ad | $100 | $200 |
| Webinar Sponsor | $300 | $500 |
| Webinar Presentation | $1495 | $1695 |
Reader/Viewer Statistics
Website Statistics
6,600 monthly views; 79,000 annual visitors
Newsletter Statistics
Sent twice a week to 1,400 kombucha professionals and fermentation enthusiasts
Product Descriptions
Newsletter Ad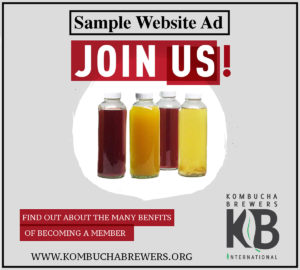 Every two weeks the KBI e-newsletter is mailed to over 1,400 subscribers who rely on it for information, meet new members and, of course, get updates about our annual KombuchaKon.  In each e-newsletter, we offer a rectangle ad located below the opening message in the paid advertisement spot.
Dedicated Newsletter
Newsletter focused solely on your company! This is a great offer for companies looking to promote your products and align your brand with a deeply integrated KBI community.
Website Ad Front Page
Our website offers exposure to more than 5,100 unique visitors monthly and your ad will be prominently featured on the home page for one month.
Member Forum Ad
A members-only forum, this opportunity allows you to reach those who work within the industry.
Webinar Sponsor
Connect with your target market through sponsoring educational content for our global network of kombucha brewers, your ad copy to be read 2x during webinar.
Webinar Presentation
Opportunity to present educational content while also highlighting your brand to a targeted and engaged audience. Presentations are 30-45 min (+Q&A) and the content lives forever (evergreen) in our "Member Forum".
Dimensions for Display Advertising (.jpg, .png, .pdf formats acceptable)
| Ad | Dimensions |
| --- | --- |
| Newsletter | 1200x600 px |
| Website Ad Front Page | 950x950 px |
| Member Forum Ad | 600x600 px |
.
General Terms and Payments
Copy is subject to editor's approval.
Payments are due upon receipt of invoice or directly through PayPal
Website ads are updated on the KBI website the 1st of each month (or subsequent day in case the 1st falls on a weekend).
Ad submissions need to be submitted by the 24th for approval.
Newsletter ads are accepted on a rolling basis
Contact
Ads can be purchased through our PayPal account or requests may be sent electronically to info@kombuchabrewers.org. Questions regarding advertising should be directed to admin@kombuchabrewers.org.
stats revised 9/19