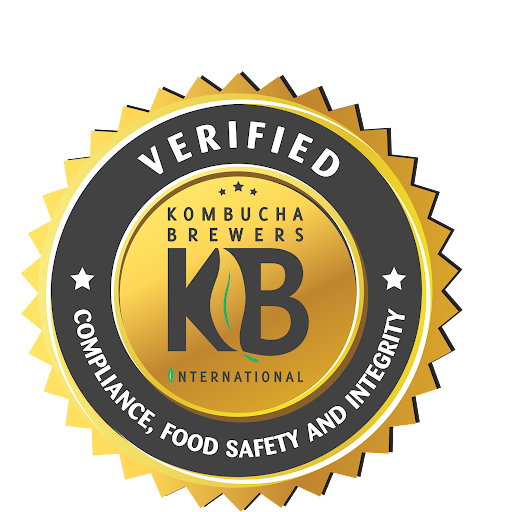 What is the KBI Verified Seal Program?
Since its inception in 2014, Kombucha Brewers International (KBI) has long understood that kombucha is not well understood by the vast majority of consumers, regulators, retailers and distributors. As early as 2015, KBI began developing a "KBI Verified" seal, and with the launch of the Kombucha Code of Practice in 2020, there is now a published common understanding of kombucha product standards and labeling requirements.
A seal indicating KBI verification of standards and labeling requirements provides significant value for both consumers and businesses in the kombucha industry. This seal will provide the Alcohol and Tobacco Tax and Trade Bureau (TTB) with confidence that the brewing process is controlling spoilage and retailers with confidence that the product is consistent and meets certain specifications.
For brewers, this can lead to less TTB oversight and more market acceptance.  This is an example of self-regulation, where KBI sets the requirements for food safety, HACCP, labeling, and alcohol compliance, and participating brewers comply, provide documentation and sign a certificate of conformance. Compliance will also be further verified through randomly selected, periodic on-site audits to maintain the integrity of the seal by the third-party auditor.
Benefits of Participating in the KBI Verified Seal Program
Participating in the KBI Verified Seal Program has several benefits for both businesses and consumers. Some of these benefits include:
Increased consumer trust: KBI Verified products carry a seal or label that indicates that the product meets industry standards established by the Kombucha Code of Practice in regards to product standards, specifications, labeling and compliance. Consumers who are looking for KBI Verified products can easily identify them by the seal and have confidence in their authenticity.

Improved product quality: To maintain their certification, producers must adhere to industry standards for kombucha production. This results in a higher-quality product for consumers.

Market differentiation: KBI Verified products can differentiate a business from its competitors, which will help attract customers who are specifically looking for authentic kombucha products.

Increased demand: As consumer demand for kombucha and living fermented foods continues to grow, participating in the KBI Verified program can open up new market opportunities for businesses.

Increased trust from retailers and distributors: Kombucha is a newer product in the marketplace and has had its own challenges due to lack of education and exposure. KBI Verified products let the retailers and distributors know that it has been vetted and is safe to carry on store shelves.

Create marketing initiative: With the launch of the KBI Verified Seal Program, we have a vehicle to talk about kombucha in the press and to consumers. Digital assets for education purposes will be combined with a marketing plan to raise awareness of the kombucha category as a whole.