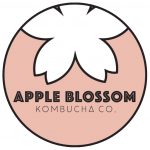 Caley Gunthorpe,  Apple Blossom Kombucha Co, East Lansing, MI, USA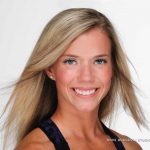 Q: When did you first discover kombucha?
I actually discovered kombucha while training for bodybuilding shows in 2010, trying to get my gut health in check. My first experience was GTs Synergy Trilogy, and it was love at first sip as we all say!
Q: Why did you start your own kombucha company?
I think like most of us, the cost of kombucha became quite a lot (as then a young college student) so I began brewing on my own. Little by little I found myself sharing my kombucha with others. Then decided I should go all in!
Q: What is your favorite flavor of kombucha?
Sacred Springs, any flavor! They make such cool flavor combinations, and also Michigan Made! 🙂
Q: What is your former/current other life or career?
Just recently I gave up my full time career as a Health and Physical Education teacher to pursue kombucha full time! It was the perfect transition time for me, I just had a baby (now 6 months!) and am expanding to a new brewery. Although I still personal train and teach group fitness on the side 🙂
Q: What is a saying that you live by?
Those who think they have no time for health and wellness now, will have to find time for illness later.