Diane Mitchell and Arjuna Veeravagu, Whistler Elixir, Birmingham, Vancouver, Canada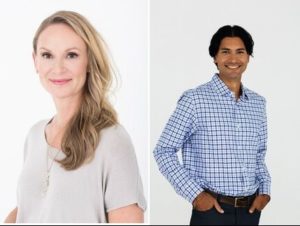 Q: When did you first discover kombucha?
Diane: I was having lunch with a former colleague at Whole Foods, and I decided to try GT's original. I had no idea what Kombucha was, and I actually thought it was similar to an iced tea (in Canada it is sweetened). Much to my surprise, it was not at all what I was expecting and my friend and I had a good laugh over my sour-faced reaction. It wasn't until travelling to Kauai many years later, that I truly fell in love with Kombucha when we found Kauai Juice company. Their fresh on-tap flavours were an oasis!
Arjuna: At a random visit to Kauai Juice Company a few years ago while driving around the island. It was a very hot day and perfect timing for my first taste of cold, fresh kombucha on tap. I've been hooked ever since!
Q: Why did you start your own kombucha company?
Diane: I have always believed in the power of nutrition and health, and was ready to create a different type of community around this.
Arjuna: Diane and I both love kombucha so much and felt we could create a unique beverage company focused on it. Whistler Elixir combines my passions for natural health, entrepreneurship and mountain living.
Q: What is your favorite flavor of kombucha? 
Diane: I am a fool for Rise Kombucha's Rose & Schizandra. Always.
Arjuna: Clear Mind by Brew Doctor
Q: What is your former/current other life or career?
Diane: I studied Health Science as my undergraduate degree, and hold a diploma in dental hygiene. I am currently practicing as a dental hygienist when I am not brewing kombucha!
Arjuna: I'm a naturopathic doctor and acupuncturist and own and manage naturopathic clinics in Vancouver and Victoria.
Q: What is a saying that you live by?
"What you think, you become. What you feel, you attract. What you imagine, you create". -Buddha