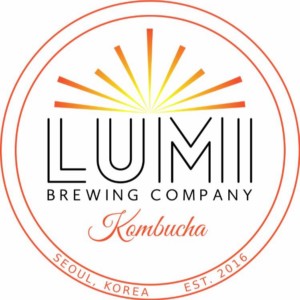 Becca Baldwin, Lumi Brewing Company, Seoul, Seoul Teukbyeolsi, South Korea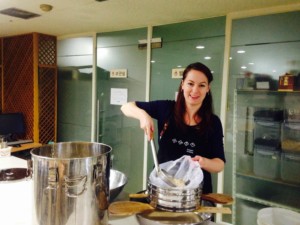 Q: When did you first discover kombucha?
I discovered kombucha as a teenager in Eugene, Oregon, where I grew up. My first kombucha was GT Dave's, back in the year 1997. Though the first taste of kombucha was quite a shock to my unaccustomed palate, I soon realized how good my body felt when I drank it. As my palate grew more accustomed to the wonderfully acidic and yeasty flavor, I began to crave it and drank it whenever I could.
Q: Why did you start your own kombucha company?
South Korea is a country rich in fermentation traditions, however, when I moved here in December of 2006, I couldn't find my beloved kombucha anywhere and I missed it terribly. While studying Traditional Korean Alcohol at a brewing school in Seoul (where I studied and eventually taught brewing classes at for six years), I finally got my hands on a SCOBY. After I began brewing my own personal stash of kombucha, friends started asking me if I'd sell them bottles. Though I refused to sell and only accepted trades of homemade kimchi, pickles, jam, and bread, etc. (via an ad hoc bartering system), my homebrewing operation grew considerably. Having discovered the market demand among expats in Seoul for quality brewed kombucha, I finally founded Lumi Brewing Company in April of 2016. We are now available on tap in locations throughout Seoul and will soon hopefully have bottles for distribution. Along with the challenges of operating a business in a foreign country, we have to do quite a bit of customer education as we are introducing quite an unfamiliar product into the local scene. Despite these challenges, the opportunity to share the joy of kombucha with others is immensely rewarding.
Q: What is your favorite flavor of kombucha? 
Whenever I travel home to the states, I try as many brands and flavors of kombucha as I can. This past summer, I tried "Amazing Blues" from Holy Kombucha (Fort Worth, TX) and I have to say that it is one of the best things I have tasted in a long time.
Q: What is your former/current other life or career?
I was formerly an elementary school teacher.
Q: What is a saying that you live by?
"Enjoy the little things in life because one day you`ll look back and realize they were the big things."– Kurt Vonnegut