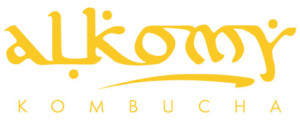 Fiona Abbott, Alkomy Kombucha Drink, Augusta, WA, Australia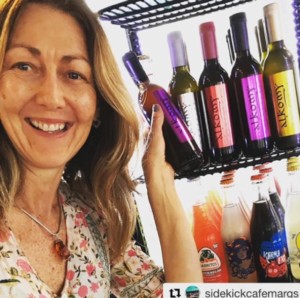 Q: When did you first discover kombucha?
I first discovered Kombucha when a friend gave me a Scoby in 2010 after I'd had my baby – was part-time PT consulting at the time.
I was blown away at how good it was and couldn't believe that no-one was making it commercially in WA then. Only Mojo (East Coast) who I called and mentioned my intention to take it further and develop a brand in WA. They were so supportive and wished me luck. Their business had grown 3 times in 6 months so knew it was worth putting all my 'guts' into.

Q: Why did you start your own kombucha company?
Took me 2 years to finally get it passed by the local Health Authorities to produce and sell the product – they'd never heard of it!
Made my first batch soon after I received my license and applied to sell at the local farmers market and local health food store in 2010 which is still the same Alkomy Original recipe to this day being used. Calls started coming in to stock my brand Alkomy so knew I had to develop the business further but also gradually and at a pace I could handle and afford as a single mother.
Q: What is your favorite flavor of kombucha? 
Not sure on favourite flavour, there are so many good ones, but I suppose Passionfruit or Sourcherry or Pomegranate are on top of my list but still keep going back to Alkomy 'The Original' delicately flavoured with Lemon Myrtle and Lemon Grass which produces the most subtle unique flavours – seems to mature with age like a good sparkling wine 🙂
Q: What is your former/current other life or career?
My previous career's were in Africa (Cape Town) in an Advertising Agency as a Radio Producer (Assisting on TV Productions), then moved to Australia and did a brief stint in music production (Sydney) but was also studying to became a personal trainer and nutrition consultant. I worked in that capacity for 7 years, both running my own business and working out of Health Centres/Parks/Gyms.
I then moved to Perth (got over the rat race of Sydney) and moved to my family in Perth and started at Endeavour College of Natural Medicine as a Campus Manager. A love affair and an imminent birth our our child got me to move to the quaint seaside coastal town Augusta and took up a position as a Chiropractic Assistant working for an absolute guru in his field. Can thank him for his wisdom and constant guidance and care – would not be where I am today with Alkomy if we hadn't crossed paths.
Currently run Alkomy with 1 permanent casual staff member (and friend) who's basically been there from the start. I also employ 1 casual to back us up so very busy juggling Mum and business owner/operator duties but loving it.
Growing daily at a pace I can manage into the perfect niche market for Alkomy. Loving the journey learning, growing, helping and connecting…feel it's been a gift given to me to share with a little piece of the Universe for future overall generational health.
Q: What is a saying that you live by?
My motto is: Do it now…live life to the fullest healthy and happy. Never give up on your dreams and aspirations. Be tenacious. Stay on your own path and keep doing what drives you. That's inevitably what will create success for you which may not necessarily be $$. Success is unique to the individual. The Big Magic!