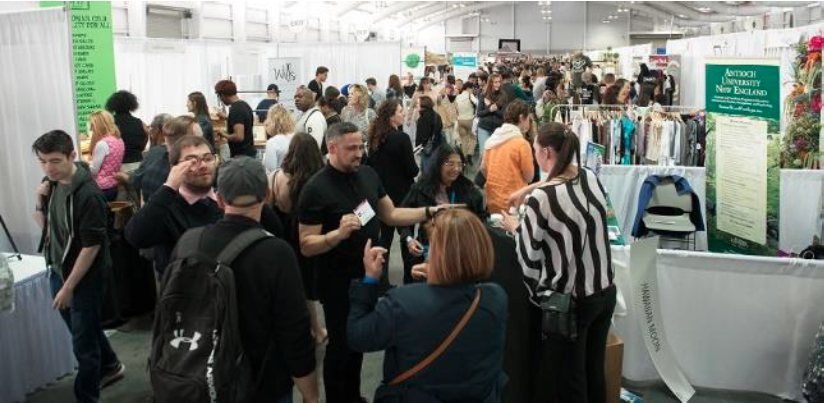 KBI's Kombucha Village at the Green Festival Expo in Washington, DC was a great experience for the brands and attendees!
The Kombucha Village atmosphere brings brands together to share responsibilities, promote each the category as a whole, and sample and sell, sell, sell! Rather than being spread throughout the conference floor, several brands band together to demonstrate solidarity and to introduce consumers to the entire category. Sampling & DIRECT SELLING are encouraged at these events to hook everyone from the kombucha curious to the serious sippers, and the DC date was no exception.
The KBI Kombucha Village in Washington DC included the following brands:
Buchi (NC)
Mountain Culture (VA)
Craft (DC)
In yet another packed session, KBI president Hannah Crum was on-hand to share with attendees the benefits and  basic facts of kombucha in an educational presentation. She also pitched in pouring samples and answering questions while enticing passersby to stop for a quick sip!
"What I love about the Kombucha Village is that it introduces consumers to the category. They can quickly see at a glance that we are more than just a single brand and they are excited to try all the different flavors." ~ Peter Roderick, Mountain Culture
Don't miss your chance to "brand together" as KBI still has five more Kombucha Villages with slots available. Start planning now for Fall- reserve your spot today before these dates fill up!
Future KBI Kombucha Villages:
MENF Albany, OR (June 4-5) – SOLD OUT!
Green Festival Los Angeles (September 16-18)
MENF Seven Springs, PA (September 23-25)
MENF Topeka, KS (October 22-23)
Green Festival San Francisco (November 11-13)
Green Festival Portland (December 9-11)
AVERAGE MENF ATTENDANCE 10,000-15,000 people
AVERAGE GF ATTENDANCE 3,000-8,000 people
"Buchi has long understood the value of connecting directly to new customers. Education and sampling is vital to introducing newbies to Kombucha as it brings more drinkers into the category. We are thrilled to have forged this terrific opportunity and are even more excited to see it grow. Hope you will join us at the Kombucha Village!" Michael Numinous, Buchi Kombucha
this is content page