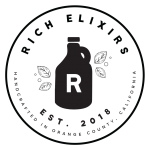 Brooke and Jesse Rich, Rich Elixirs, Costa Mesa, CA, USA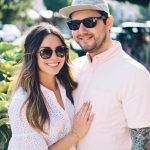 Q: When did you first discover kombucha?
(Jesse) I first discovered Kombucha, when I stumbled upon it at the store. I loved it so much that I started buying a ton of it! I began researching everything on Kombucha and then started making my own!
(Brooke) I went through some major stomach issues when I was 21, and began taking probiotics. I researched all the things that had probiotics in them, and discovered kombucha did! Ever since then, I've been drinking & loving it!
Q: Why did you start your own kombucha company?
We started our kombucha business because we were so passionate about the product & how beneficial it has been for both of us. Our friends loved our kombucha as well, and we decided that we wanted the ability to share with everyone in our community!
Q: What is your favorite flavor of kombucha?
Our top flavors are Gt's Ginger Hibiscus & Guava Goodness!
Q: What is your former/current other life or career?
(Jesse) I work as an IT Manager. (Brooke): I freelance Graphic Design!
Q: What is a saying that you live by?
We love this quote and saying, "Doubt kills more dreams then failure ever will." – Suzy Kassem
this is content page