Sarah Underberg, Agri-Cultured Foods, Waukee, IA, USA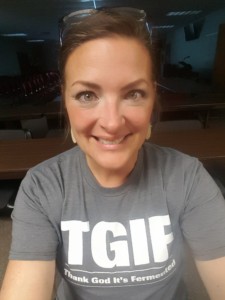 Q: When did you first discover kombucha?
My husband was the first of us to discover kombucha. He began brewing it over 6 years ago. He played with flavor profiles and found one that I loved. I was hooked ever since then!

Q: Why did you start your own kombucha company?
We actually started with fermented foods, but we quickly discovered how important kombucha is to overall health and knew immediately we needed to add this to our product line.
Q: What is your favorite flavor of kombucha? 
My personal favorite is Reeds…I love, love, love Cabernet!
Q: What is your former/current other life or career?
I spent 13 years as a preschool teacher and then I was a stay at home mom. My husband was a Master Carpenter before we started Agri-Cultured Foods.
Q: What is a saying that you live by?
Be on guard. Stand firm in faith. Be courageous. Be strong. And do everything in love.