AOAC Honors Kombucha Working Group
Confers Prestigious 'Expert Review Panel of the Year' Award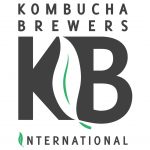 Los Angeles, CA (Sept. 26, 2017) – In the pursuit of accurate, repeatable, easy-to-use methods designed for the unique needs of the kombucha industry, Kombucha Brewers International's Panel with The Association of Organic Analytical Chemists (AOAC) has been honored as the recipient of The Expert Review Panel of the Year Award.
Presented to KBI President and Co-Founder Hannah Crum at the 131st AOAC INTERNATIONAL Annual Meeting in Atlanta, GA on Monday September 25th, the award recognizes "the completion and achievement of significant milestones, such as innovative technology or application, breadth of applicability, critical need, difficult analysis, or timeliness," and is a reflection of the high levels of interest and participation from scientists around the world.
The Stakeholder Panel on Strategic Food Analytical Methods (SPSFAM) Expert Review Panel (ERP) for Ethanol Testing in Kombucha, to give it its full name, was initiated in September 2015 by KBI and five member breweries: GT's, Health-Ade, High Country, Humm, and Live Soda. Their goal is to develop new, internationally approved testing methods for ethanol present in kombucha that can meet the requirements of small margin of error, accuracy, and repeatability, hopefully at a low cost and easily done in-house by each kombucha producer, to help aid in brewing a consistent and compliant product. The panel has continued to meet every year to vet new methods, as well as to examine new data from the methods submitted.
Last year in Dallas, the panel moved one method that employs Gas Chromatography with Flame Ionization Detection (GC-FID) to First Action status. At this year's meeting in Atlanta, six methods were up for review, including two re-submissions. A lively discussion of the data and methodologies resulted in one Enzymatic method being moved to First Action status, while two other Gas Chromatography with Mass Spectrometry(GC-MS) methods, along with a second Enzymatic method, came very close to passing this first hurdle. The panel expects those three methods will also move to First Action status later this year, once additional data is submitted.
The promising Enzymatic method now in First Action status was submitted by R-Biopharm AG, a German based developer of test solutions for clinical diagnostics and food & feed analysis. All methods are validated in the field for a period of two years, after which time the authors submit additional data to confirm that it has performed as expected. Once a method has been fully vetted, it then moves to Final Action status and is included in the AOAC canon of verified methods.
Led by KBI, the global kombucha industry continues to implement best practices and new industry standards for self regulation. Designating accurate testing methods for the trace amounts of ethanol in kombucha is a vital component of that collective evolution. Additional updates can be found on the KBI Website here.
About Kombucha Brewers International:
Kombucha Brewers International (KBI) is the international, non-profit trade association for the kombucha brewing industry. To learn more about the kombucha industry, or for more information on membership, please contact KBI President Hannah Crum at info@kombuchabrewers.org or visit kombuchabrewers.org.