Maxime Deschesnes, Mélanie Pilote, Éloi Ferland, Nomade Junerie, Saint-Thuribe Quebec, Canada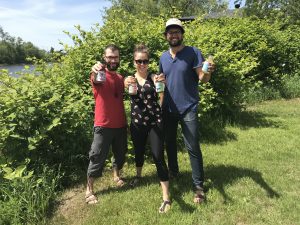 Q: When did you first discover kombucha?
I discovered kombucha with the popular brand RISE at college when I was 18 years old. Since then, I've never stopped drinking fermented tea. My partner Eloi has brewed his own for many years.
Q: Why did you start your own kombucha company?
We started Nomade Junerie in January 2018, but Eloi has been a JUN home brewer since 2016. So, when we decided to launch our start-up, we had our recipes and they were already liked by our local buddies.
Q: What is your favorite flavor of kombucha? 
Quetzal Kombucha and Lao Kombucha, both from Quebec, are probably our favorite brands. They are very kind, so that helps! 😉
Q: What is your former/current other life or career?
I'm a boxer instructor and also a re-creative boxer. Eloi loves climbing, exploring, travelling, and discovering the world, and his « terroirs » are definitely our common passion.
Q: What is a saying that you live by?
PURA VIDA