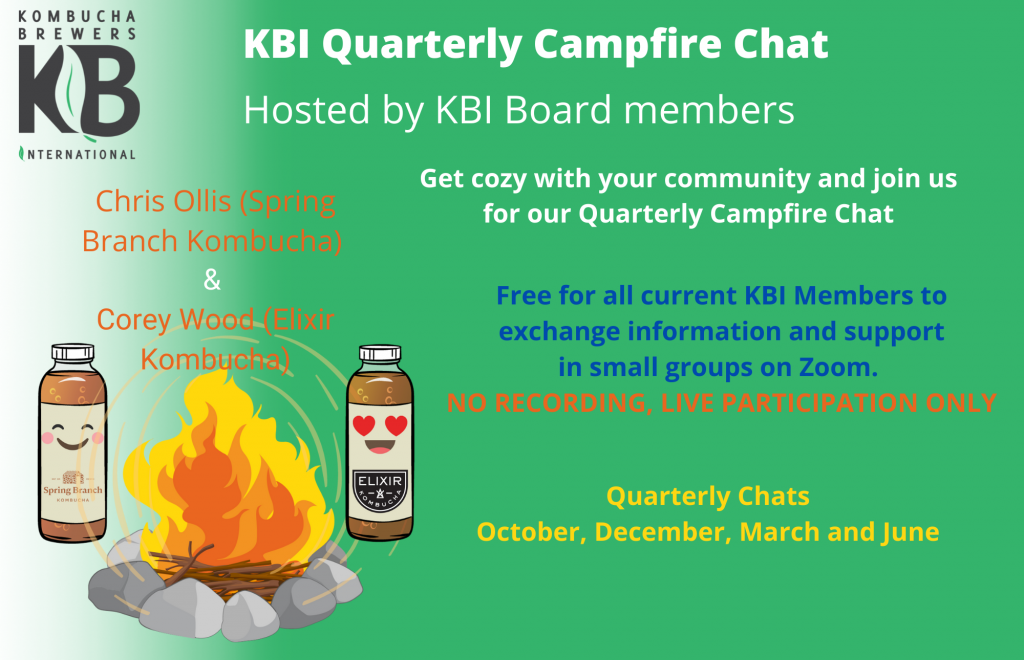 Quarterly KBI Campfire call – join Corey Wood of Elixir Kombucha and Chris Ollis from Spring Branch Kombucha for a quarterly open forum to chat about all things related to running a kombucha brewery.
Networking – brewers meeting other brewers,
Questions & Answers – ask questions about how other brewers organize their processes, source equipment and supplies, and more!
The hosts facilitate the conversation, but the group generates the content. Everyone on the call has some expertise on brewing kombucha and are ready to share.
We host an in-person version at KombuchaKon and other events which are very lively. If well attended, the call produces similar results.
Chris Ollis is the co-founder of Spring Branch Kombucha, a family-run brewery located in Springfield, MO. He and his wife, Jessica, launched SBK as a draft-only operation in 2017. Today they distribute product throughout the Ozarks region of Missouri and Arkansas. Spring Branch is committed to offering low friction, healthy choices to consumers by producing a boldly flavored craft kombucha. Chris' background is in finance with over 20 years of experience in the wealth management and banking industries. Chris has served KBI as the Treasurer since 2019.
Corey is native to Louisville, Kentucky, where Elixir Kombucha is located. Corey grew up skateboarding and playing guitar with his friends (including Ryan, now his partner in Elixir). He met his wife (and partner in Elixir), Danielle, while in high school. They both attended University of Louisville, where Corey received a bachelor's degree in nursing, which led to a career as an ICU nurse. The intensity of work was offset by a love for reading, writing and home-brewing kombucha. Now, as head of operations at the award-winning Elixir Kombucha, Corey has overseen the scale of the brew from 9 gallons to 1000 gallons and counting. Corey has served on the KBI Board since 2019.
DATE: Wed, August 16, 2023
TIME: 1:00pm PT/ 3:00pm ET – 1-1.5 hours

NO RECORDINGS – LIVE PARTICIPATION ONLY