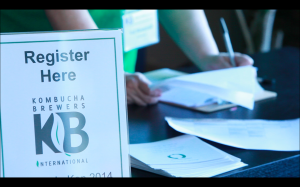 Kombucha Brewers International announces the formation of a new membership category: BrewPub Members.
In order to qualify under the BrewPub designation, members must already have an operational kombucha brewery actively serving flavors on tap to retail customers. Alternately, BrewPubs can be a licensed beer brewery that also brews and sells kombucha.
The BrewPub designation is priced in the same tier structure as the current member categories, and is measured by annual gallon output.
KBI added this additional type of brewery qualification due to shifting member makeup and interest from BrewPub potential members who did not feel their products fit into the previous levels of KBI membership, according to KBI president Hannah Crum.
While other brewer members must demonstrate that their products are sold in five or more retail locations, BrewPub members must present a copy of a business license showing active status and the physical address of the BrewPub where kombucha is sold on tap to retail customers.
KBI reports that it looks forward to expanding the organization by offering its services to another type of client, effective immediately.