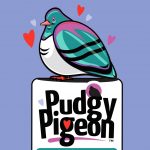 Heather Furneaux, Pudgy Pigeon Kombucha Brew, Canada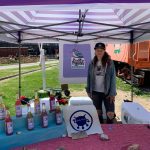 Q: When did you first discover kombucha?
A: I first discovered kombucha in 2014 when an old partner introduced me to it where I thought the culture was a bit scary looking and the taste was a bit tart for me. I soon began to try different brands from the store and fell in love with the taste and health benefits.
Q: Why did you start your own kombucha company?
A: I have always had an entrepreneurial spirit. I was living in New Zealand when I started making kombucha in 2018. Always having a love for medicinals and natural healing I was curious and drawn to make this healthy potion. I knew I wanted to create a business and a connection to New Zealand. Fascinated with their bird life I came up with the idea for Pudgy Pigeon Kombucha Brew. Pudgy Pigeon is nicknamed after the Kererū from Aotearoa, also known as the New Zealand Wood Pigeon, a protected bird with a taste for fermented fruit. Kererū have earned a reputation as the drunkest bird in New Zealand, and have been known to fall from trees after consuming rotting fruit left lying on the ground. During the summer when fruit is abundant, drunk kererū are sometimes taken to wildlife centres to sober up.
The name seemed suitable for my company as it shares a story of fermentation and universal connection.
Q: What is your favorite flavor of kombucha? 
A: Brew Dr, GT's and Moore Kombucha.
Q: What is your former/current other life or career?
A: I work in the front line of supported housing on the side and during the summer I work kombucha full time. Working kombucha full time is my goal.
Q: What is a saying that you live by?
A: Never say never. Always be open to learning, think limitless and hold unconditional love.