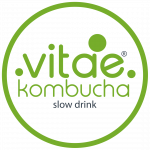 Núria Benet, Vitae Kombucha, Spain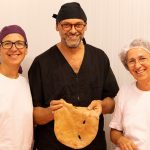 Q: When did you first discover kombucha?
We discovered kombucha during our life experience in Costa Rica. We moved there in 2011 with our three sons and owned NOSARA BAGEL HOUSE. Our main visitors were American people who spent their holidays in that paradise, looking for the best place to practice yoga and surf. They were who led us to discover it, because they asked us for it!!! We found a wonderful woman who made her own kombucha, BELLABUCHA COSTA RICA, and that was the kombucha we sold in our restaurant.
Q: Why did you start your own kombucha company?
When we came back to Barcelona, we decided to make the same kombucha we learned to make in Costa Rica, with organic ingredients and the most artisan method possible. Our life motor is to bring the benefits of a good kombucha to the maximum of people!!
Q: What is your favorite flavor of kombucha? 
LOTUS from BELLABUCHA!!! and let me say it, PURA VIDA from VITAE.
Q: What is your former/current other life or career?
Before we owned our restaurant in Costa Rica, we were part of a family company, based in Barcelona, that had a chain of luxury perfume and cosmetics shops.
Q: What is a saying that you live by?
Why not? This means open mind!!!!
this is content page