Junita Lapp, Lapp It Up, Malta, OH, USA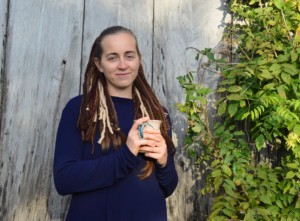 Q: When do you first discover kombucha?
I first discovered kombucha in 2011 while working my first job at a heath food store in my hometown. I actually didn't enjoy the first bottle I tried but I decided to keep trying it anyway since I knew it was super healthy for me. I'm so glad I did, because by the time I finished my second bottle it had really grown on me! Before long my kombucha habit grew to be too much for my pocket book, so I got a scoby from a co worker's mom and started brewing my own.

Q: Why did you start your own kombucha company?
I had always wanted to be able to be my own boss and work for myself. When my kombucha home brewing adventure turned into a major hobby, I expressed my love for it and my friends by sharing excess scoby and kombucha. Since nobody in my area made kombucha commercially, it occurred to me that it would make sense to do it as a way to support myself and the local economy! I love hearing someone who has never tried kombucha or someone who has had a bad experience with it become an avid fan after trying mine!
Q: What is your favorite flavor of kombucha? (a brand that is not your own)
I haven't been able to try that many different brands since my area is pretty limited in kombucha selection. I do love to try out new flavors while traveling though!. I have to say that some of the best kombucha I've has is Unity Vibration's Ginger Kombucha Beer.
Q: What is your former/current other life or career?
I just recently quit my part time job as a Caregiver for seniors and am now doing the kombucha thing full time!
Q: What is a saying that you live by?
Whatever you want to succeed at in life must be fueled by passion. A paycheck is not enough to sustain you.