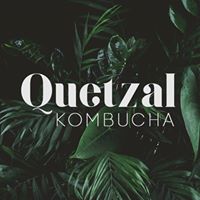 Myriane Lefebvre and Martin Desaulniers, Quetzal Kombucha, Shawinigan, QC, Canada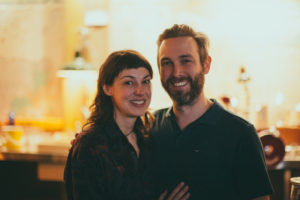 Q: When did you first discover kombucha?
Myriane: When I was a kid my mom used to make her own kombucha. Later, as a young adult, I started making my own for my personal consumption.
Martin: First time I tasted kombucha, it was a RISE Kombucha (Ginger) that Myriane bought from the store. I was hooked immediately. We later started our company in the exact same commercial space Myriane bought that bottle. Isn't it amazing?
Q: Why did you start your own kombucha company?
Martin: We began to brew kombucha for fun in our apartment. We shared it with friends and colleagues, who asked for more. At the time, we both worked for a microbrewery (Le Trou du diable), our colleagues were the kind of people who weren't easily impressed by drinks, and still they wanted to buy kombucha from us. That's when we started to believe that we probably had something good.
Q: What is your favorite flavor of kombucha? 
Martin: That's a good question. I guess it would be Turmeric Sunrise from Aqua Vitea, which is one of our inspirations.
Q: What is your former/current other life or career?
Myriane: I've studied Biochemistry and Sociology. I worked almost 10 years in a microbrewery (Le Trou du diable) and 6 years as a wine advisor at the "Société des alcools du Québec".
Martin: I used to work in marketing and management. Still doing it for a product I love, in an industry I'm passionate about.
Q: What is a saying that you live by?
Gratitude is the catalyst to abundance and giving.
Myriane: "You must be the change you want to see in the world." – Mahatma Gandhi
Martin: Do what you love, and you'll never work another day in your life.
this is content page