Growing Strong Culture
By Ian Griffin, Booch News
From the welcome reception on Wednesday to the after-party on Friday, the attendees at the Kombucha Brewers International (KBI) 2019 sixth annual conference celebrated the theme of "Growing Strong Culture".  As everyone who has brewed 'booch knows, the quality of the drink depends on the strength of the SCOBY (the symbiotic culture of bacteria and yeast). This year's event was the biggest to date, with 424 attendees and 61 sponsor booths. People from 17 countries represented 112 brands from around the world. There were kombucha brewers from as far away as Japan, Iceland and Australia and as close to home as California and Oregon.
To hear what attracted some of the international visitors to the event, listen to this podcast.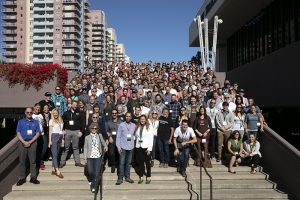 Kombucha brewers at the conference gained strength from being part of a community of like-minded people.  It was a unique opportunity for people to come together as an industry. The content of the keynotes, the information from trade show vendors, and the discussions around the kombucha sample bar all gave new and experienced brewers alike valuable insight into a rapidly growing industry.

KBI Member Sessions
Thursday & Friday mornings were KBI member-only sessions. These sessions are rich with information for KBI Brewery members and cover a range of topics including the Treasurer's Report, Membership Report, Standard of Identity and more. KBI members login here to access the presentations from the conference. Not a member? Join here.
 Trade Show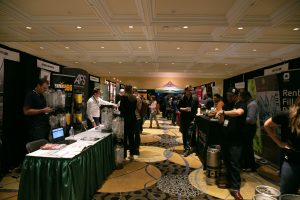 The 61 sponsor booths at the Trade Show showcased companies able to assist in every phase of the kombucha business.  A comprehensive set of solutions under one roof covered everything from financing and production to ingredients, testing, marketing and distribution. Anyone looking to start a kombucha company ought to start their search here to review the list of vendors for the tools they need to launch, evolve and strengthen their business.
There were multiple solutions on offer in each category.  Organic teas and flavorings sourced from around the world. Brewing vessels, kegs, bottling and labeling equipment for every sized operation. These suppliers also service the craft beer industry and solve similar challenges in the growing kombucha industry. 
To hear from a random selection of vendors check out this podcast.
Market Trends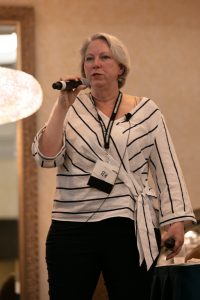 Bobbie Leahy, director of sales for SPINS– the leading provider of data and insights for the natural foods industry – reviewed natural beverage trends. While US kombucha and fermented beverage sales are up 21% to $728 million in the past year, velocities are down.  Warning "what goes up sometimes goes down," Leahy cautioned brewers to be ready to defend their distribution channels. It was no surprise to hear that the top four brands (GTs, KeVita, Health-Ade, and Humm) account for 85% of sales in the conventional channel.  The 'long tail' of the remaining brands each account for less than 1% of sales.
Game-Changing Brew Tank Design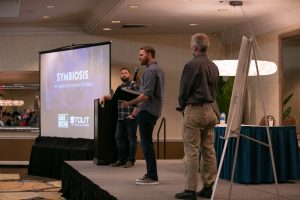 Keeping alcohol content under 0.5% ABV is one of the main challenges faced by kombucha brewers.  A joint presentation by Stout Tanks and Kettles and Texas-based Bare Bucha described what might possibly be a game-changing design in stainless steel brewing tanks. Unlike the typical cylindrical-shaped vessels, Bare Bucha spent over a year experimenting with an innovative stackable tray designed to provide ideal levels of oxygen to the brew.  The increased contact with oxygen allows aerobic bacteria to metabolize ethanol to acetic acid; sugars to lactic acid; and glucose to gluconic acid. The Stout Tanks Symbiosis Fermenter shifts the balance towards bacteria, which reduces overall alcohol.
If these trays prove as effective with other brewers as they have for Bare Bucha, they could well be the shape of things to come and hopefully spurs additional innovations for fermenting Kombucha without compromising quality.
Kombucha Standards of Identity
KBI President Hannah Crum and members of the KBI Board gave an overview of the industry and called for establishing a standard of identity for 'booch.  This is a diverse industry: 43% of KBI members are women-owned companies, 17% minority owned and 11% LGBTQ+ owned. Members brew 'booch in everything from 2-gallon glass jars to 6,000-gallon stainless steel fermenters.
Work on developing meaningful standards of identity continues, as KBI gears up to publish an acceptable definition of authentic kombucha.  Under development since last fall, the standard will attempt to define authentic 'booch both in terms of source materials and brewing process. It recognizes that creating an authentic product requires fermenting sweetened tea with a SCOBY and that the end product is not pasteurized or adulterated.
The campaign received a boost when GT Dave announced an endowment of $1 million to KBI in support of the program that will, he stated, "fight for what kombucha is, protect it, honor it, and celebrate it."
Other presenters went into detail about the brewing techniques and best practices necessary to produce quality 'booch, as well as the microbiology and DNA profiles of SCOBYs and kombucha liquid.
Laraine Dave $1 Million Endowment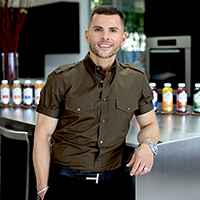 Rapturous applause greeted the surprise announcement by GT Dave of a $1 million endowment gift to KBI. GT explained the endowment will help KBI in two main areas. "First, it supports the promotion of the fair and cohesive legislation necessary for our industry to thrive. Second, we urgently need a standard of identity to protect the integrity of the product."
GT Dave illustrated the challenge of maintaining authenticity by showing the range of what passes for "orange juice" on the shelves: from artificially flavored juice that might sell for $0.06/oz to fresh squeezed juice for $0.72/oz. Most consumers are well aware of the difference and willingly pay the price for the more authentic juice if that is important to them.  
Kombucha Tasting Bar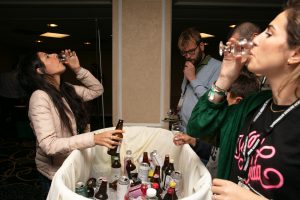 The well-stocked kombucha tasting bar was the office water cooler at the event.  Participants took advantage of the opportunity to share their kombucha with other attendees. There were over 50 brands on ice.  Everyone had a KombuchaKon 2019 souvenir shot glass and a chance to savor more flavors of kombucha in one place than anywhere else on the planet.
As people gathered around the 'booch tasting bar at the end of the day, we asked what were some of the big takeaways. Here's what they told us.
Tyler Gage calls for Fierce Collaboration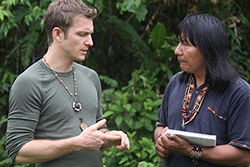 The founder of the RUNA energy drink brewed from guayusa, a nutrient dense leaf  found almost exclusively in the Amazonian forests in Ecuador, shared his story in a closing keynote. After college, Tyler moved to the rainforest for two years to learn the local languages and ancient traditions of the native Kichwa tribe. The company partners with these farmers in the Amazon to grow caffeinated guayusa leaves and provides income to the local community. RUNA now supports more than 3,000 farming families in Ecuador, and RUNA products are sold in over 10,000 stores across the U.S. and Canada. Tyler notes that "when you're doing something authentic, that for whatever reason the universe tends to attract resources and support." Though like every entrepreneur's story, there were hiccups along the way, Tyler has landed on his feet at Terrafertil, a superfoods brand recently acquired by Nestle Foods.
His powerful story of how collaboration across cultures built a strong and successful company made a fitting end to KombuchaKon 2019.
###
Conference Recordings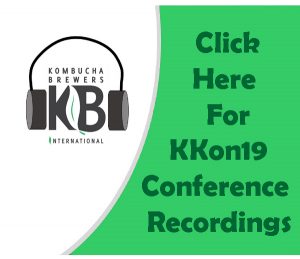 Did you miss a talk or would you like to have all the info at your fingertips? Here's your chance to have all the information that was presented at KKon19! Purchase your conference recording now for $199 by clicking on the ad. *Does not include Brewery Member only content.

Photo Gallery