A recent Linkedin post by Komvida–Spain's kombucha market leader–drew attention to the explosive growth in sales across the country.
"In the last two years the kombucha sector in Spain has experienced a growth of more than 580% in terms of sales. Invoicing 3.1 million euros in 2020 has gone to 21.1 million euros in 2022, a true milestone for the sector.
We can't be happier to have such a promising future ahead of us. In addition, Komvida is the current leading kombucha company in Spain with almost a 57% market share."
A pie chart illustrates their market-leading share.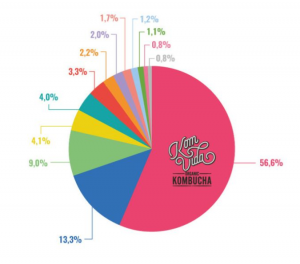 Source: Komvida
They don't reveal the brand names of the dozen competitors in the Spanish market. However, our own ranking of the relevant brands, by number of Instagram followers (as of Jan 1, 2023), gives some clues as to who they are: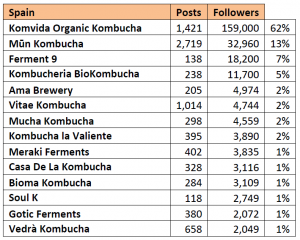 Source: Booch News, Jan 1, 2023
The number of followers each brand attracts as a percent of the total of this group matches the ranking in the pie chart–at least as far as the four leaders.
The Booch News Worldwide Directory now lists 38 brands across Spain. As the kombucha market has grown seven-fold in the past two years consumers now enjoy a wider selection of both nationally distributed brands like Komvida as well as regional ones such as KombuXa in the Canary Islands, Umiko Kombuchas in Ibiza, and Fuzz Co in Segovia.
In this way, kombucha is mirroring Spain's famous wine industry, where consumers can sample from 138 diverse regions. It's not all Rioja!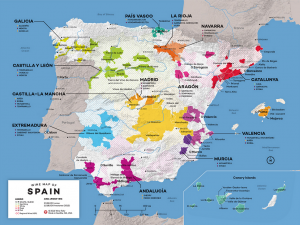 Source: Wine Folly
Interestingly, the ranked percentage of followers is mirrored in some other countries, for example, Denmark: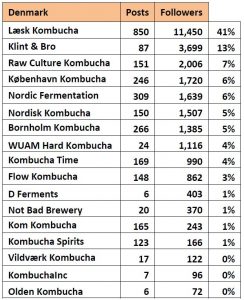 Source: Booch News, Jan 1, 2023
A recent summary of the top three brands by number of Followers shows there are multiple countries where the top two brands significantly outrank the rest.  It remains to be seen if a classic duopoly for kombucha brands will emerge in different countries.
A version of this post first appeared in Booch News and is reprinted here with express permission.