Joe Sheehan, John "Griff" Griffith, and Henri Pellerin, Dean's Zesty Booch, Bozeman, MT, USA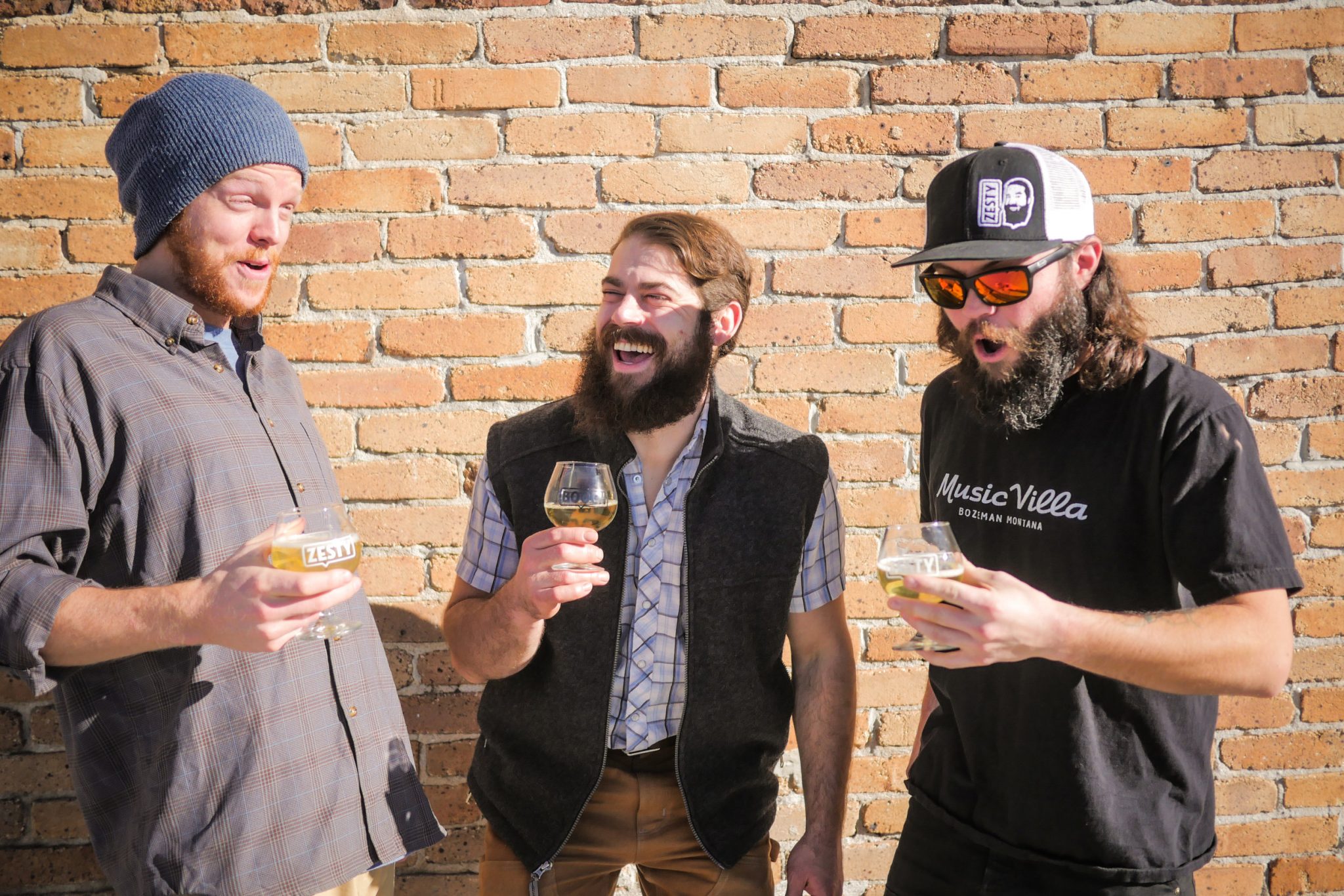 Q: When did you first discover kombucha?
J: My hippie roommates in college turned me on to Wonder Drink in 2009-2010 and at the time I was willing to tolerate the somewhat strange taste for the purported benefits. I grew to like it's flavors rather quickly, especially once I met Dean, the founder of our company, who forever changed the way I perceived the potential of what Kombucha can taste like.
G: I remember someone crashing at my house in college who was collecting what appeared to be a jellyfish in a jar on my kitchen counter. I promptly threw the miscreant's offending item in the trash. Ten years later and I'm still taking pellicles out to the compost pile every week. They just weigh a lot more now.
H: I started drinking Kombucha in college. So, around 2007-2008.
Q: Why did you start your own Kombucha company?
J: After meeting Dean, I found myself really interested by the cult following his Booch had acquired. I started by designing him a brand, but it quickly spiraled into spending late nights together, dialing in a business plan in preparation for our opening in 2016.
G: Making booch allows me to apply my background in Microbiology while also serving as an outlet for creative expression.
H: I am not one of the founders of DZB but I have been friends with Dean since the days when he was just making booch for his friends and neighbors in recycled bottles with Joe's stickers on them. I knew DZB was something I wanted to be a part of because the people involved are some of the smartest and most talented people I know, the brand has positive impact on our community, and the product speaks for itself.
Q: What is your favorite flavor of kombucha? 
J: I like a lot of Brew Dr. flavors. I also really enjoyed the Health-Ade Reishi Chocolate flavor that Griff turned me on to. I've also been really enamored with some of the flavors the eight Montana Kombucha breweries have been putting out. There are eight of us in the state now and that's awesome to see!
G: KKON 2016 at the world's largest kombucha bar, a company from Japan who's name escapes me. It was delicate, balanced, and overall just straight up delightful.
H: Juneshine in San Diego is a company with great kombucha products in the high ABV space in my opinion. Their Blood Orange Mint is especially good. Big Easy Bucha in New Orleans also has a great satsuma flavor.
Q: What is your former/current other life or career?
J: Prior to this, I was working in marketing and advertising with a local company, so those skills have certainly come in handy here. I am also the drummer in a band called The Dusty Pockets, which just put out an album that you can find on Spotify and iTunes.
G: Lab Rat. Mostly infectious disease research. I also play bass in The Dusty Pockets with Joe.
H: Prior to joining the DZB team, I was a registered investment adviser and I still love investing and economics.
Q: What is a saying that you live by?
ALL: When everyone else zigs, we Zest.
this is content page