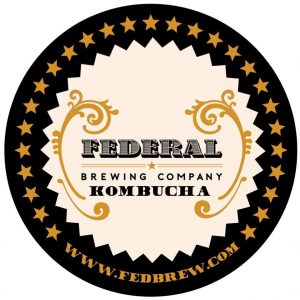 Gayle Galbraith and Stanley Nowak, FedBrew Kombucha, Federalsburg, MD, USA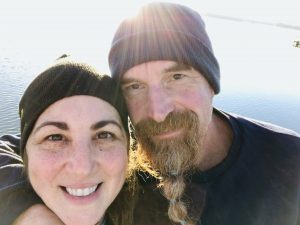 Q: When did you first discover kombucha?
I am a fan of Kundalini Yoga and was smitten by the music of Deva Premal & Miten, known for their beautiful energy-shifting, mantra music. My partner, Stan, and I saw them live at MantraFest 2013 at the Temple Performing Arts Center, formerly The Temple, a historic Baptist church. The acoustics were simply divine and so was the Culture Club Kombucha that Reed's provided. The entire experience was transformational and it was love at first sip.
Q: Why did you start your own kombucha company?
Our Company is mission focused. Although we were raised in the Philadelphia area, we started our business with the mission to help revive Federalsburg, a small town on the Eastern Shore of Maryland. Exactly how we arrived here is a long story, and how we would do this was not initially clear but it was a calling. I started by attending The Institute for Integrative Nutrition (IIN), and became a Board Certified Wellness Coach. We then purchased a historic bank building and received a Federal Brewers Permit, thinking that we would offer the town a community gathering space with healing foods and ancient ales. Shortly after purchasing the building, I tried kombucha for the first time and became obsessed with all things fermented. Stan was happy to pivot from beer to booch, since he was raised in an old school Polish family. His mother always had some form of homemade fermented beverage or natural remedy on the table. After a little translation and a lot of smiling, I received some great tips from "Babchi," Stan's Mom. I also received encouragement, guidance and practical lessons from the illustrious Kombucha Mama, Hannah Crum – thanks, Hannah!
Q: What is your favorite flavor of kombucha? 
Hex Ferments Butterfly Lime is a real winner!
Q: What is your former/current other life or career?
I worked in various administrative positions at a university and a consulting firm. I also dressed up like Pocahontas at kid's birthday parties, which was much more fun. I decided to change careers in my 40's. I became a Wellness Coach with a focus on gut health. Stan, is a USMC Veteran and spent years in construction inspection. The Marine Corps slogan "Semper Fidelis" or "Always Faithful" has been invaluable to our mission and the unofficial USMC slogan "Adapt Improvise Overcome" is one that I think all kombucha brewers can identify with.
Q: What is a saying that you live by?
"Kombucha Life is Good – Drink UP!"