Dr. Yasmine Mason, Fermentation Farm, Costa Mesa, CA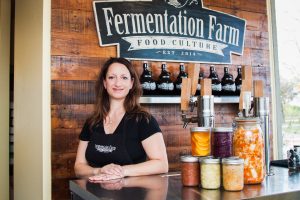 Q: When did you first discover kombucha?
A: A friend was making kombucha on her countertop and gave me a SCOBY in 2009 to make my first batch.
Q: Why did you start your own kombucha company?
A: I founded Fermentation Farm in 2014 with the fundamental belief that a "Healthy Gut = Healthy Life." Along with kombucha, we also make many other fermented beverages including Jun, fermented ginger soda, fermented root beer and water kefir soda.
Q: What is your favorite flavor of kombucha? 
A: GTs Watermelon.
Q: What is your former/current other life or career?
A: I am a chiropractor.
Q: What is a saying that you live by?
A: The way you do anything is the way you do everything. –T. Harv Eker. I love this saying because it helps me do my best in every aspect of my life.