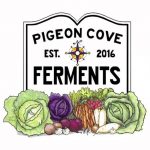 Dylan LAbbe-Lindquist, Pigeon Cove Ferments, Rockport, MA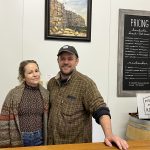 Q: When did you first discover kombucha?
A: We have been consumers of kombucha for many years. I (Dylan) remember when I was a child visiting my parents' friends' houses where they were often brewing their own Kombucha, I remember the smell most of all.
Q: Why did you start your own kombucha company?
A: Kristen, my wife and I started our company in 2016 with a focus on locally sourced sauerkrauts. We have also done small batch Hot sauces and salsas. We added Kombucha to our product line in 2018. Our company was a natural progression from fermenting and storing our excess produce from our gardens and evolved into what we are today. We still use ingredients from our home gardens in our sauerkrauts, kombuchas and other fermented goodies.
Q: What is your favorite flavor of kombucha? 
A: The best Kombucha I ever had was Panacea Brewing's Oat Straw Kombucha. It had such a delicate flavor, it reminded me of the sweet smell of a hay loft.
Q: What is your former/current other life or career?
A: Kristen has a degree in sustainable agriculture and as the owner she takes care of our books, social media presence, flavor development and making sure we are all staying in line. I have a degree in Geological Sciences and business management with close to 15 years culinary experience and another 14 years as the head brewer for Cape Ann Brewing Co.
Q: What is a saying that you live by?
A: We don't really have a saying that we live by although we do have "Get Fermented" on our cans. Be nice, be kind, there are many people going through many things you will never know. Treat everyone with kindness and respect, it's a tough world out there.