Kristin Zerbin, Hoochy Booch Kombucha, Canada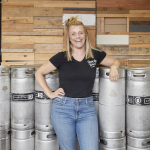 Q: When did you first discover kombucha?
I discovered Kombucha back in 2013 while I was working as a meditation teacher at Chopra Yoga. I saw a bottle on the shelf and gave it a shake (classic kombucha mistake) and it exploded on me at the store. It didn't deter me from drinking it though.
Q: Why did you start your own kombucha company?
I started drinking Kombucha out of a need to heal my gut. After a long trip abroad I came home and my gut was just off. I went to the doctor and they found "nothing wrong with me" and offered me anti-depressants. I then took it upon myself to heal myself. I changed my diet and lifestyle but it wasn't until I found & started drinking Kombucha that I truly started to feel better.
Q: What is your favorite flavor of kombucha? 
Wow, tough one for sure. I love unique flavours or something that is not too sweet. I'd say either lavender or hibiscus profiles would be my favourite. Or turmeric. I like my 'booch more on the drier side.
Q: What is your former/current other life or career?
I'm a Jill of all trades, so to speak. I am trained as a doula and makeup artist, I've also dabbled in meditation and selling raw treats. I love anything that allows my creativity to shine through so now I do some product creation for other companies and more recently dabbling into herbs and women's health.
Q: What is a saying that you live by?
Everything is figure-out-able – Marie Forleo. It's true right? You eventually can figure it all out if you allow for enough patience + creativity.