Jason Wagner, J's Kombucha, St. Paul, MN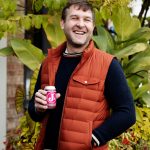 Q: When did you first discover kombucha?
A: Several years ago, I was searching for a way to alleviate my oldest son's severe allergies. Having learned of the allergy-immune system connection, I had reason to believe strengthening his gut health would improve his immune system, and this in turn would hopefully lead to less severe allergic reactions. Since he was allergic to dairy and other common foods that naturally contain probiotics, I needed to find an alternative source that a picky four-year-old would also enjoy – the answer was kombucha!
Q: Why did you start your own kombucha company?
A: I wanted to bring something positive into the world that I can be proud. After many years of home brewing, the volume was approaching commercial levels anyways.
Q: What is your favorite flavor of kombucha? 
A: GT's "Sacred Life" — you had me at blue spirulina.
Q: What is your former/current other life or career?
A: In another life, I was the proprietor of Univocal Publishing, an independent press specializing in artisanal editions and translations of texts spanning the areas of cultural theory, media archaeology, continental philosophy, aesthetics, anthropology, and more. Univocal is now a series with the University of Minnesota Press.
Q: What is a saying that you live by?
A: The Dude abides.