Anna Zesbaugh, Hooch Booch, Denver, CO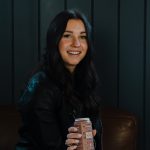 Q: When did you first discover kombucha?
I can't remember exactly but I think in High School. I had some stomach problems and turned to kombucha as a solution. I have been hooked ever since!
Q: Why did you start your own kombucha company?
My life led me to it. I got furloughed from my job when the COVID-19 pandemic hit. I was trying to figure out my next move. The name hit me: Hooch Booch. I saw a gap in the market and haven't looked back.
Q: What is your favorite flavor of kombucha? 
Anything that our contract brewer, Rocky Mountain Cultures brews. 🙂
Q: What is your former/current other life or career?
I am a hospitality professional by nature and by schooling. I absolutely love the industry. I also teach yoga which is an amazing side hustle but really keeps me sane day to day.
Q: What is a saying that you live by?
Trust The Process