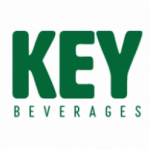 Kasey Guelda, Key Beverages, Louisville, KY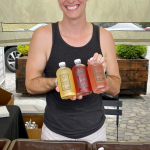 Q: When did you first discover kombucha?
A: I discovered Kombucha 7 years ago! It's actually a funny story, I loved wine at the time, as most do in there 20's, and was very hungover one day and my best friend was like you have to try this drink! It can help with your hang over and so much more! That was the first day I tried GTS Gingerade Kombucha and that led to me making it myself and my discovery of Water Kefir, which is what my company Key Beverages brews and sells in the Louisville, KY area. Discovering live, raw, fermented beverages was a game changer for me not only on my journey to quitting drinking alcohol but for my gut health as well.
Q: Why did you start your own kombucha company?
A: I started my own Water Kefir company because there are so few companies out there doing it. I made kombucha for years and kept giving it to my family, the flavor was just too intense for them, so I started my search for something that could bring them the same or similar benefits but with a milder flavor and discovered water kefir. After making it for some time and giving it to friends and family I knew I was on to something so I started to sell it on social media and it has expanded from there.
Q: What is your favorite flavor of kombucha? 
A: Its summer time so I would say my favorite flavor of kombucha right now would be Watermelon Crush by Elixir Kombucha in Louisville, KY. I love watermelon and this flavor is so refreshing!
Q: What is your former/current other life or career?
A: While I build my brand, I am still working full time as the Sales and Operations Manager of a company called Garage Solutions Louisville. We do custom epoxy/polyurethane floor coatings, custom cabinetry, shelving, slatwall, overhead racks, and more.
Q: What is a saying that you live by?
A: While I find other people's words and quotes inspiring, I find personal affirmations more transformative. One of my personal favorites is "I do not have to hustle to prove my worth. I am enough just as I am."