Jack Joseph, Komunity Kombucha, Chicago, IL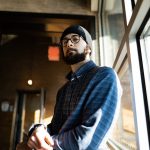 Q: When did you first discover kombucha?
I first discovered kombucha back in high school circa 2013 when I was competing at a pretty high level as varsity football and baseball player. I was on a mission to achieve a higher physical and mental performance, so I immediately changed my consumption habits when it came to food and beverage. It started with making beet juice for my football team before our football games and then kombucha naturally fell into my lap. I remember trying it for the first time and it had chia seeds in it.. tasted like mucus and I didn't like it all lol. Then I tried a synergy from Mr. GT and I was hooked.
Q: Why did you start your own kombucha company?
Well, my health journey all started after witnessing my brother overcome his drug dependency of 7 years through the power of herbal medicine, kundalini yoga, juice, and sound. This was one of the most difficult times for our family, but it taught us about the healing power of food, yoga, and sound. After this experience, there was no doubt in my mind that this was a lifestyle I wanted to adopt. As I mentioned earlier, it started with beet juice and evolved into so much more – kundalini yoga/breathwork, cold water exposure, probiotics, kombucha, and herbalism. My passion to spread healing through these practices was contagious and continued to grow.
After college, I began having a deep frustration with the lack of functional beverage options when I would go out to eat, go to the bar, or to the club to dance. As a non-alcoholic drinker, I wanted something that was light, crisp, and delivered a similar feel to a fine wine and/or beer. Now, I'm on the mission to evolve consumption in social settings by working with high end restaurants, bars, and clubs to offer more functional beverage options that serve the community of NA drinkers.
Q: What is your favorite flavor of kombucha? 
Watermelon Wonder by GT Dave
Q: What is your former/current other life or career?
I'm all in on Komunity Kombucha but have a background in supply chain management & entrepreneurship.
Q: What is a saying that you live by?
Everything that I need, I already have. Everything that I have, is all that I need. Everything I desire, I will receive because my reality is created by me.