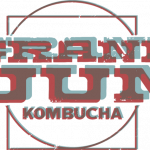 Sarah Nicole Wood, Bada Booch, Grand Junction, CO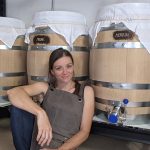 Q: When did you first discover kombucha?
I've dealt with digestive issues most of my life. Fermented foods weren't exactly part of the Midwest diet I grew up with. A few years ago after trying an "Invigorated Immune" by Shanti Elixirs while at Bim Beri Bon in NC, I left wanting an IV that ran into my mouth on demand. The positive effects on my system seemed immediate. More, please!
Q: Why did you start your own kombucha company?
I started brewing at home like most of us do. Well, 1 batch, turned into 5 batches, turned into a business loan and a small facility here in Grand Junction, CO. Sometimes we say the batches have a mind of their own…and well I think mine were quite ambitious. So I went with it, researched the market here, connected with brewers through KBI, and got to work. It is important to me to contribute to the community in which I live and operate a positive, values-based business model. I wasn't interested in compromising anything for profit. Simple as that. Make a great product that helps cultivate a healthy community one gut at a time.
Q: What is your favorite flavor of kombucha? 
I reach most often for Island Hopper by Better Booch at the store, I mountain bike and love to toss a can in my pack to have trailside on long mountain rides. An extremely close second is anything on tap by Wild Bloom in Moab, UT. And of course, when Shanti starts to distribute out here, her Tulsi Rose is simply the best.
Q: What is your former/current other life or career?
Weeeellllll, I'm on Chapter 6. I have worked in many industries throughout my career across the US. From former business owner and talent manager in the music industry in Nashville, TN, to Executive Director of a Mountaineering Museum and Adventure Film Festival here in Colorado, to VP of Operations at a cycling component manufacturer in Asheville, NC, and a couple of things in between. This is my third business. I go hard, am endlessly curious, and want multiple lives to live. So I'm just doing my thing and trying to fit in as many experiences between now and the end.
Q: What is a saying that you live by?
"Full throttle or don't bother." – Marti in Paradox Valley, "A steady knock breaks the rock." – Grandpa Wood
this is content page