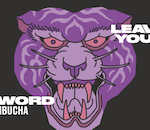 Nicolas Adam, Leave Your Sword Kombucha, Amsterdam, Netherlands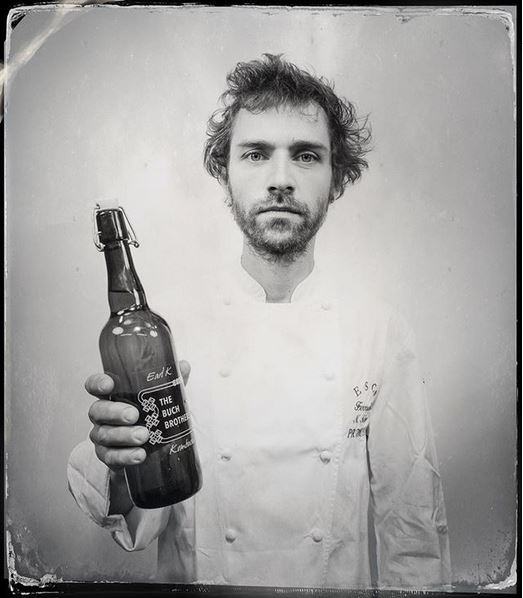 Q: When did you first discover kombucha?
12 years ago in France, from a friend. At the beginning I understood the process but hadn't been attracted by it at all because of the acidity of it, it was really far into the vinegary phase. At that time I had just started cooking school and was more into nature wine and beer to get to know the basics, also it was already a lot to process so I didn't really pay attention to the drink at that time. But now I realize that I drink it all the time when I start my own, that's funny how works life!
Q: Why did you start your own kombucha company?
I started my own company first because I fell in love with the process and I was dreaming to get into tea for many years already. Also, because I was super against all the kombucha I had tried so far, like vinegar, no tea flavors remaining, everybody doing the same flavors original (that doesn't taste like tea really) and then ginger, ok we got it.
Don't take it wrong, I love my colleagues work but that's how I work and use to start my own projects, every time I start a project I'm against everything, then do tons of research to go as deep into the roots of the subject and all the uses from agricultural aspect to medicine…So I got a starter from the first kombucha brand I could find and started to experiment with the few first theories I had about the product by keeping the main focus: this drink is made of tea, from china, apparently even cured an emperor…all right so to me it has to be made only on tea, to be as good as the tea itself originally, with all the palette from the fermentation process, has to be on the same level as a perfect nature wine, and can be polyvalent meaning it can be drunk pure on the terrace, but also used on cocktails, to cook with, to be paired with food is also really important.
I'm looking to create a company as sustainable as possible, the project has been auto financed since the beginning, starting on at Cafe de Ceuvel, then moving to Sandberg Instituut for 1 and a half years. Since June I've been back in Amsterdam Noord, this time on my own. I'm trying to invent my own production codes by combining different knowledge from cooking, canning, wine making, distribution and sales. I see my "customers" as partners who allow me to express a vision which, I hope, will bring a new perspective to food & drink pairing by combining a taste experience with a social experiment. It's not everyday you can have a kombucha bar at a Skate café, make a clip together with a movie maker and skaters who are part of the staff, and at the same time release a photo exhibition of those skaters that give a vision on interactions and pair the kombucha with oysters. That's where I want to go, truth of action, create and generate opportunities, explore with a product that is allowing me such freedom because it naturally expresses it and has enough depth to speak for itself.
Q: What is your favorite flavor of kombucha? 
This is a really difficult question – so far the most interesting I've tried was Go Kombucha, I like the fact they are working only on tea.
Q: What is your former/current other life or career?
I'm a kid who had the chance to grow up by the ocean in one of the best villages you could find, I guess, in front of Jersey Island. My dream was to become an entomologist, but after a big disappointment from an engineering school I decided to learn cooking. I went to Paris and trained at the Ecole Superieure de Cusisine Française ESCF Grégoire Ferrandi, I learn from everyone. I've been really lucky to find all these chefs who opened my mind (Jean-Claude Chanroux, Eric Robert, Benoit Nicolas, Denis Rippa, Laurent Cesne, Jean-Paul Jeunet, Regis & Jacques Marcon, Stephane Laruelle, Stéphane Planche) and all the great cooks I met during this path. When I came back from my Caribbean experience, I decided to go into the canning process and work closer with local products. That's how I met Coen & Ariane at Mortagne sur Gironde Le domaine du Meunier, they supported my work by giving me freedom to express my cooking skills. Thanks to them I had the opportunity to go to Amsterdam to help the Café de Ceuvel, where I started my first kombucha batch. In the end I think the Ceuvel really gave me the strength to reconstruct myself and mind to start a new project. They showed me that a future is possible you just have to trust it and give everything to make it happen!
Q: What is a saying that you live by?
Hahaha sorry, I don't have one in mind, but I have thousands of inspiration sources – all the books I've read and the ones to come, music, image, actions, those are for me the biggest energy, for example the last documentary that really kicked my ass was Obey Giant: The Art and Dissent of Shepard Fairey. I'm a super big fan of his work, I want to do the same with my kombucha meaning that the kombucha is a field that helps to think about food quality, reveal production challenges, where sustainability is as important as quality of the product, human interactions… in the end what do we want to create, support & leave behind?