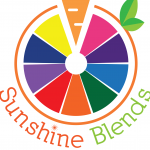 Shelley Sauter, Sunshine Blends Kombucha, Canada
Q: When did you first discover kombucha?
Our business partners Corey & Kim first tried it in 2016 at a local farmer's market. They gave us a bottle and we loved it!

Q: Why did you start your own kombucha company?
We found our families really enjoyed kombucha and we loved the idea of providing a healthy choice for all people.

Q: What is your favorite flavor of kombucha? 
Corey and Kim love Happy Belly's grapefruit Kombucha – Clay and Shelley love Rise Blueberry Maple

Q: What is your former/current other life or career?
Kim owns a fitness studio – Corey is an estimator for a utility company – Clay is an electrician by trade with his own LED lighting business and Shelley works part time as a Social Worker. Of course we all are actively growing Sunshine Blends Kombucha.

Q: What is a saying that you live by?
The effect you have on others is the most valuable currency there is. (Kim & Corey)
In the middle of every difficulty lies opportunity (Shelley & Clay)