Brent Henderson, The Good Reverend Kombucha Co, Warrenton, VA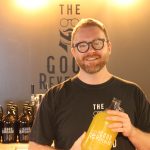 Q: When did you first discover kombucha?
2010. My wife used to have lots of pain associated with digestive issues and a friend shared a jar with us believing it might help. It did. From the very first time that she drank it, it completely relieved all her pain. I've been making it ever since.
Q: Why did you start your own kombucha company?
I believe that kombucha is good for humanity. I wanted to be a part of something that gives people something that tastes amazing yet has countless benefits to their overall health, immunity, and energy.
Q: What is your favorite flavor of kombucha? 
Coconut Lime by Humm
Q: What is your former/current other life or career?
I was a reverend in what seems like another life! Strangely enough I feel like I am benefiting humanity more in my current capacity than I was before.
Q: What is a saying that you live by?
Question everything.