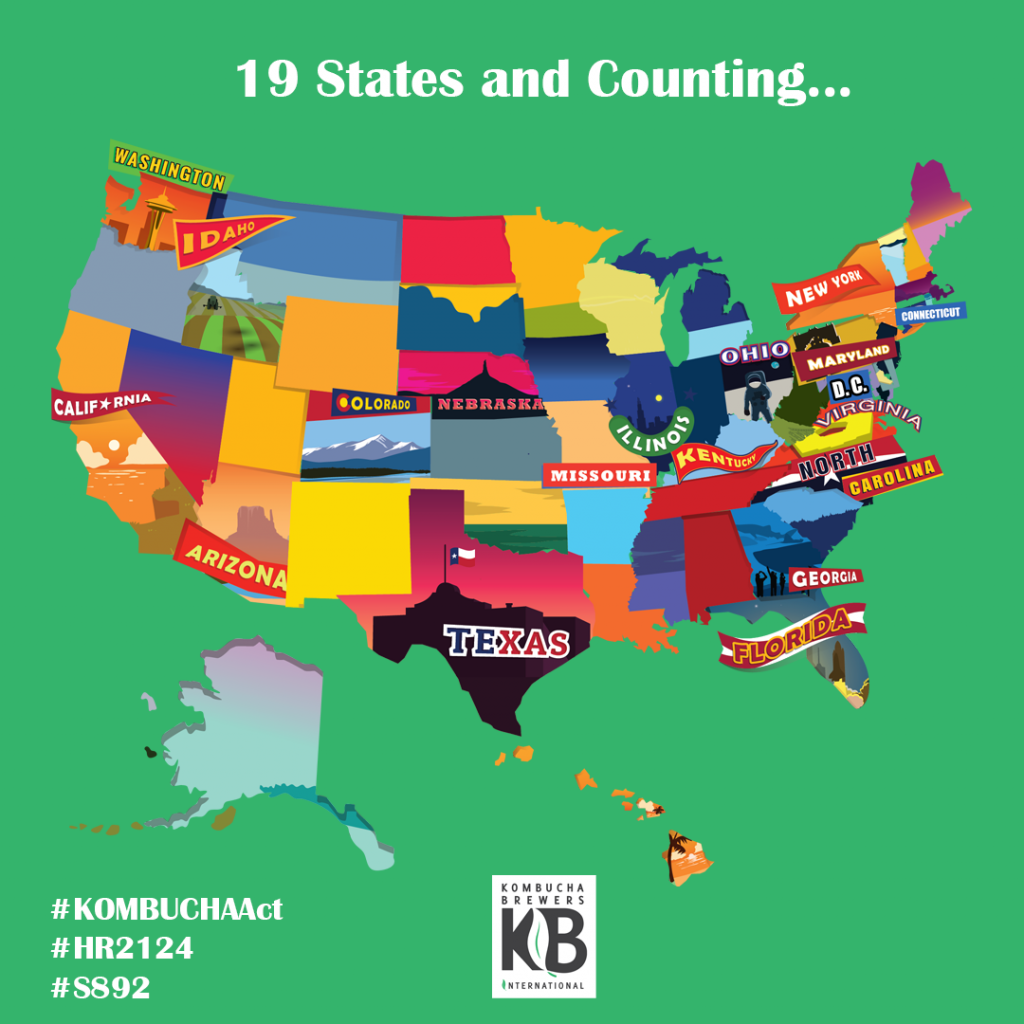 2021 has been a political rollercoaster, to say the least. In spite of that, KBI is gaining in its efforts to increase the ABV for kombucha and bring the IRS code into alignment with natural fermentation. The KOMBUCHA Act, which raises the ABV at which kombucha is taxable and regulated by the TTB from .5% to 1.25%, has been reintroduced in the 117th Congress as H.R. 2124 / S. 892.
KBI has made significant headway to passing the KOMBUCHA Act before the end of the year. Since 2021 began, our industry has met with 45 legislative offices in 19 states, bringing the total number of KOMBUCHA Act meetings to 226. 36 brands have participated so far, and over 50 have signed up to get involved.
More than that, kombucha businesses have reached 15 people in key positions to help move our bill through Congress this year, including Speaker Pelosi's office and both leaders in the Senate. Our efforts have signed on 7 bipartisan cosponsors since the introduction of H.R. 2124 / S. 892 in late March.
Summer 2021 is a critical period for the kombucha industry, as there are some umbrella bills in active discussion that have a strong possibility of housing The KOMBUCHA Act. This is the number one hurdle that has prevented its passage in past years. In other words, THIS IS THE TIME.
While we have some powerful supporters, technical bills such as The KOMBUCHA Act can get lost in the shuffle with the many political issues currently in play. Missing this opportunity would jeopardize 5 years of efforts to resolve part of a major issue in our industry. For this reason, we are introducing some new strategies to reach more lawmakers and raise the visibility of H.R. 2124 / S. 892. We want to ensure that the voices of our industry—your voices—can be heard through the noise.
This summer, KBI will be coordinating the following initiatives:
Kombucha Donations to District Offices across the US—constituents can send products to their representative's offices to showcase local goods. Giving these offices kombucha gets it in the hands, and on the minds, of the staffers advising on this legislation. Some of our members have already been doing this and are enthusiastically received. Starting in June, KBI will be coordinating efforts to send local brands' kombucha to these offices and needs volunteers in every part of the US to donate product.
Rolling Zoom meetings with Senators and Congresspeople— In lieu of another Virtual Hill Climb, KBI will be taking advantage of the new Zoom protocol to schedule meetings with lawmakers and constituents on a rolling basis. This will allow us to accommodate more schedules, as availability will not be restricted to specific dates. This means we need kombucha companies to continue to volunteer for these 15-20 minute calls, especially in the following states: IN, IA, LA, MA, MI, MT, NJ, NV, OK, PA, RI. Please email lgo@kombuchabrewers.org to arrange one or two meetings (be sure to include your general availability in the email).
Sending Group Letters to Congressional Leaders: Another tactic we'll use to draw attention to our bill is to send signed letters from producers located in the states of key lawmakers. Gathering signatures from individual brewers and listing them all on a joint letter shows the size and strength of the kombucha community. We'll be sending emails asking if we can add your brand's name to the list of supporters– a quick "yes" is all you need to participate.
Ongoing Efforts to Promote Signing Our Petition: KBI has set up a petition that individuals in the US can use to send prefilled emails to their representatives in support of H.R. 2124 / S. 892. These emails keep The KOMBUCHA Act in the minds of staffers and are the easiest way for busy kombucha brands to advocate for the bill. Simply ask your customers to go to this site to sign the petition support your business.
KBI is developing digital and print materials that any business can integrate in its social media, newsletters, events and farmers' market booths to get people who care about your product to sign this petition preserve the living kombucha they love.
Other efforts led by KBI will include press, phone calls, and future Hill Climbs determined as we assess our progress. We are determined to keep the pace throughout this Congressional term until we pass The KOMBUCHA Act, a historic step toward establishing kombucha as an important industry and easing unnecessary restrictions on producers.
Please join KBI and your fellow kombucha businesses to help enact this legislation. If the KOMBUCHA Act is something that will help relieve your concerns about storage, shelf life, or simply the variability of alcohol levels in a living product, email lgo@kombuchabrewers.org for more info on one of these initiatives. Some of them require no more than a few minutes or a social media share.
We'd be remiss if we didn't make a brief pitch here for your support: if you are not already a member of KBI and value our work, please consider signing up for the monthly or annual options that help to sustain us and all the efforts through which KBI is working to support the industry and kombucha businesses everywhere.
Let's make sure we can celebrate the PASSAGE OF THIS BILL at KKon 2022! Stay tuned for updates throughout the summer.
*** Please sign up to donate kombucha if you can—this is an out-of-the-ordinary experience for staffers that creates lasting positive associations with our industry. Having your kombucha in these offices also serves the purpose of establishing relationships with your lawmakers and exposing your brand to well-connected people in your sales area.
this is content page