Miguel Irarrazaval, Dr. Kombú Kombucha, Santiago, Chile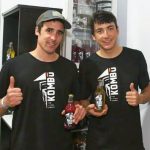 Q: When did you first discover kombucha?
It was in 2004, when my elder brother initiated in the Hare Krishna religion, and brought many healthy foods and a healthy life style to our family. He started selling the blessed kombucha in plastic bottles in the streets, in orange clothing. I met many wonderful people, and they were always at festivals sharing booch and delicious food. Our family has been producing to share and sell since then.
Q: Why did you start your own kombucha company?
I wanted to share this healthy beverage with everybody! It is so delicious but people didn't know it. Chile is the number three consumer of soft drinks per capita in the word, and I wanted to be part of the change for good.
Q: What is your favorite flavor of kombucha? 
My favourite Kombucha I have tried is the Wonder Drink Cherry and Black Currant.
Q: What is your former/current other life or career?
I am a Paragliding Instructor, and my career is Agronomist.
Q: What is a saying that you live by?
Where there is a will, there is a way.
this is content page