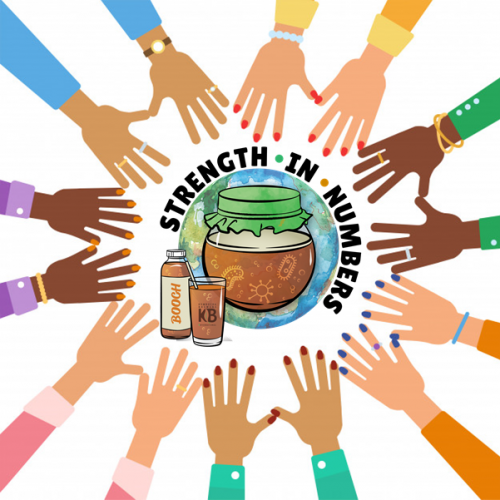 VOLUNTEER FOR THE KBI ANNUAL MEMBER DRIVE JAN 25 - FEB 15, 2021
Many hands make light work.
Teamwork makes the dream work.
We grow together.

Here at KBI, we are a grassroots organization with a small, yet dedicated staff and passionate volunteers who donate their time, energy and brainpower to stabilize and grow our beloved Kombucha industry.
The pandemic of 2020 which is continuing into 2021 has thrown sharp focus onto our collective societal and individual weaknesses. 
Health and Immunity are the top words on everyone's mind and KOMBUCHA can be a valuable tool to achieve good health and strong immune systems. 
And it has also illuminated the many ways in which we can continue to grow as an industry and evolve to meet the changing needs of our consumers, supply chain and distribution outlets. To that end, we've introduced monthly recurring memberships to help our BIPs/T1s/T2s & ADJ (water kefir!) members gain access to vital resources while retaining flexibility. 
 Many brands, even in the face of seeming insurmountable challenges, remained resilient and have established even deeper roots with their community.
Let us help you grow your business as we "change the world, one gut at a time."
Be like Corey & Volunteer Today!
Volunteer Requirements
Able to make phone calls 1-3 hours per week
Access to a computer to take notes
Passion to share about your experience with KBI
How It Works
Make calls (script & training provided)
Take notes
Report feedback
Share a Testimonial
Schedule too busy but still want to help? Then
send us an email
and we'll share them here and on our
YouTube channel
!
The KBI Admin team will be send out follow up emails based on your notes. Thank you for your support & participation!
Any video submissions become the property of KBI.
this is content page